Please allow some extra time for shipments as a result of Covid 19.
All kits are ready to be pre-ordered! (Canada Schools only)
$30 Personal PE Kit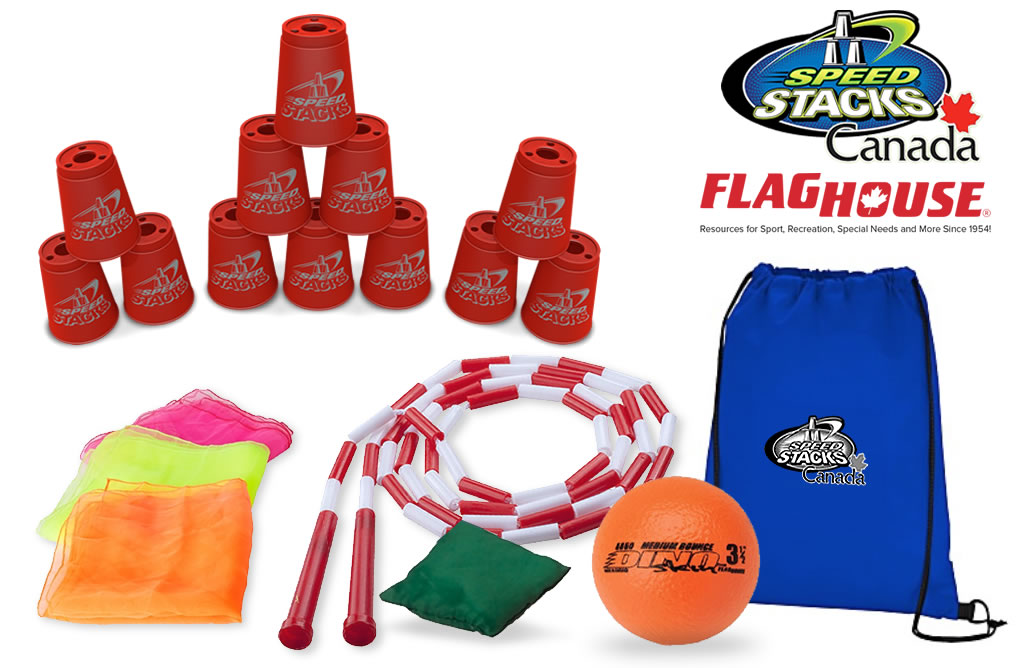 $20 Personal PE Kit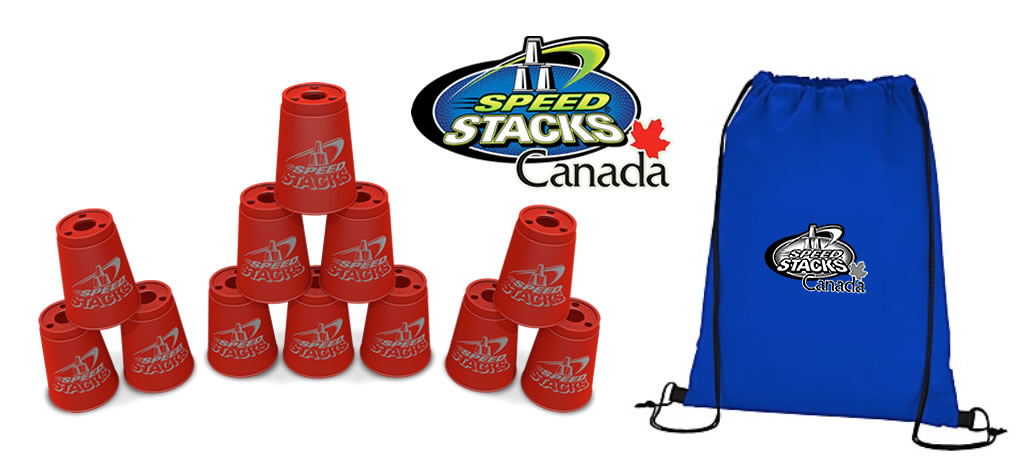 The Need
Physical Distancing has us thinking about PE equipment in new and creative ways. Speed Stacks has teamed up with FlagHouse to bring affordable Personal PE Kits to your schools. You will also be able to take advantage of specially created lessons for your teachers and students to use specifically with these kits.
Each item has multiple uses
Our PE Kit items were chosen carefully to maximize activity and versatility. We have created over 50 different activities with videos for in person instruction as well as at home learning.
Speed Stacks Set

Sport Stacking ( Free Stacking@Home Activity Videos for Parents and a full Teacher Curriculum with Physical Distancing variations).
Mini cones
Markers to designate zones
Markers to create lanes
Cups to catch and pass
Manipulatives for building and balancing
Obstacles to jump over
Counters for scorekeeping (relays, free throws, laps etc). Use stacking to count attempts in other activities. Each cup in a stack equals 1 attempt.
Online competitions will be available to challenge your students skills against other schools in your area or across Canada

7' Jump Rope

Jumping Rope
Laid out in a line to designate start/finish
Laid out in different shapes to create targets or goals

5" Nylon Bean Bag

Great for indoor and outdoor activities
Used as throwing object
Used as markers to designate area or goal

3 Juggling Scarves

Juggling
Hand Eye Coordination
FUN!!

Dino Sport Ball

Practice throwing and catching
Practice bounce and catch
Use for striking a target
Kits are ready to be pre-ordered and are being sold on a first come first serve basis with a minimum of 50 kits. Speed Stacks colors will vary. Please contact Speed Stacks today to order kits for your students!
@Home Stacking (Remote or Classroom Learning)
We have developed a great resource for Parents and Teachers with our @Home Stacking videos to meet the need of remote learning. Each video is categorized by level with Level 1 being the easiest. Our Learn to Stack videos are also included for stackers who need a refresher on the basic patterns. Learn more about our Stacking@Home Activity Videos.
Full Curriculum (with Physical Distancing variations)
The lessons cover the three patterns in sport stacking; the 3-3-3, the 3-6-3 and the Cycle as well as timing the patterns and an informal competition. Each lesson includes objectives and may incorporate the use of the Speed Stacks StackMat (mat and timer), which allows stackers to time themselves. Lessons are designed to be learned with the help of videos. Learn more about teaching Sport Stacking.
Flag House Activity Channel (lots of activities for your students)
You will find many activities on their YouTube Channel to help your students develop skills with their kits.
Sample lesson for juggling with scarves: youtube.com/watch?v=8S_eXQUs0DM

For Orders / Quotes
Want to talk it over?
1-855-YES-CUPS (937-2877)